Become a member of DCCK
Your benefits as a member of DCCK:
Receive the Chow Chow magazine five times a year
Free access to club shows, as a spectator
Access to participate in club competitions (Club Winner, Chow Chow of the Year)
Admission to the club lists (planned litters, puppy list, breeder list)
How to become a member:
The membership fee is DKK 350 per year (If you register after 1st July price for the first year is DKK 175)
Membership follows a calendar year and should be renewed every January
Bank information

BIC/Swift: JYBADKKK IBAN: DK2250360001068484
Remember to fill in your name on the transfer

Please e-mail our club treasurer (kasserer@dcck.dk) to complete your membership. Your mail should contain: name, address, phone number and e-mail address
Dog shows in Denmark
Planning to participate in a Danish dog show? Or interested in the results from the Danish dog shows?
Dog shows:
At our show calendar, you find a complete list of all official dog shows in Denmark – both DCCK club shows and DKK (Danish Kennel Club) international and national shows.
Link to online registration (hundeweb)
Results:
We have collected an overview of results from the Danish dog shows. As of 2015, you can also see written evaluation of all participating dogs. Just click on the link "resultater fra Hundeweb" in the overview. You can find the overview from the different years here.
If you like to follow our club competitions you find updated results here:
Looking for a new puppy?
Some breeders announce planned litters, other only announce when puppies are born – and some breeders only announce on their own webpages/facebook.
Here you find planned litters (parringslisten)
Here you find the puppy list (hvalpelisten)
Here you find breeders (only DCCK members on the list)(opdrættere)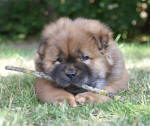 Advertisement in Chow Chow Club magazine
You are welcome to bring an ad in our club magazine. The ad should preferable be delivered in press ready material (pdf file), but our editor can also help with the setup. The ad should be paid to the club's treasurer, before it is printed in the magazine. Please make you payment and e-mail our treasurer – you find payment information in "Become a DCCK member"
| | |
| --- | --- |
| Format | 1 issue / all 4 issues |
| 1/4 page | DKK 75 / DKK 250 |
| 1/2 page | DKK 150 / DKK 500 |
| 1 page | DKK 300 / DKK 1.000 |
Further questions?
If you have any questions regarding our webpage, please contact webmaster Stine Hjelme – webmaster@dcck.dk
If you have other question please contact our club secretary at sekretariat@dcck.dk